Swaying green and golden fields stretching as far as the eye can see – farms have not just established Punjab as the country's granary, but they have also transformed its undulating plains into a scenic, picturesque countryside. The best way to experience a slice of rural life on a farm and the heart of rural Punjab is to drive out from the main cities. Farm stays in Punjab also make for a slow and sustainable trip with a minimal carbon footprint and maximum benefit to the local community.
Farm stays have sprung up all across Punjab ranging from luxurious old-world bungalows and private cottages to more modestly priced ones, they all offer modern amenities which make for a comfortable stay. In most cases, the farm owners themselves are the hosts and are happy to engage with the visitors, share anecdotes, and provide a first-hand insight into life in the countryside. The winter months from November to March are the best time to go on a farm stay. As the state offers a good network of roads, they are easily accessible.
In the midst of sprawling fields, a range of activities takes you through the typical life of a farmer: wake up to the chirping of birds, ride or even drive a tractor, take a walk or cycle through the fields, sit under the shade of a tree, pluck fruits, milk the cows and buffaloes or experience to work in a field. Some farms are located close to canals that cut through the state's countryside where you can go fishing and angling. You can explore nearby villages and might get invited for a cup of tea with the locals. There's no better way to understand why Punjab's farmers have earned a reputation for being enterprising and hard-working.
Punjabi Food
The food served at farm stays is home-cooked and prepared fresh, very often with ingredients just sourced from the fields. Meals will usually consist of quintessential Punjabi dishes such as paranthas, sarson ka saag (mustard greens), and makki ki roti (a flatbread made from maize flour) during the winter season, fresh milk and white butter and generous glasses of creamy lassi. Some farm stays host evening barbecues and bonfires in the middle of fields to the tune of Punjabi folk songs or put on cultural programs with displays of traditional Punjabi dances, bhangra, and giddha. Punjab's bountiful crops include wheat, mustard, cotton, and rice, but many farms also grow fruits such as kinnows and plums.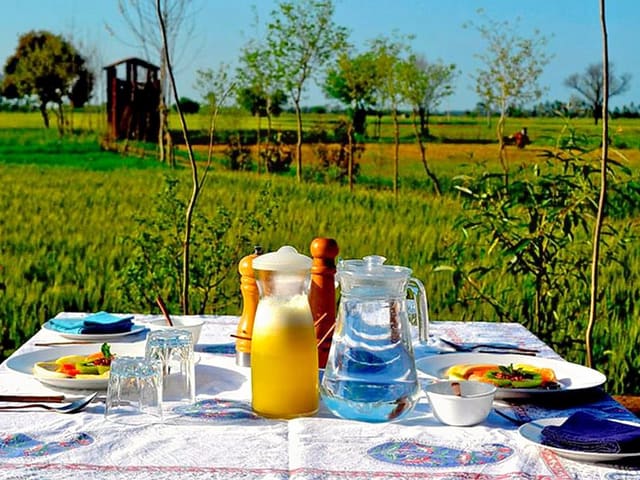 While many people choose a farm stay for a weekend, a longer halt helps to actually get into the rhythm of the slow and tranquil pace of life in the countryside. Farm stays are highly recommended for those traveling with family, giving children an insight into a life that is close to nature. The experience of staying on a farm in Punjab is greatly enhanced by the warmth and hospitality of large-hearted people who have always opened their doors to guests.
For Information please Visit the official website of Punjab Tourism Govt of Punjab https://punjabtourism.punjab.gov.in